The 8/9/10th week retropect at Digital Product School
Week 8 - Ship your MVP
Week 9/10 - Release next iteration each day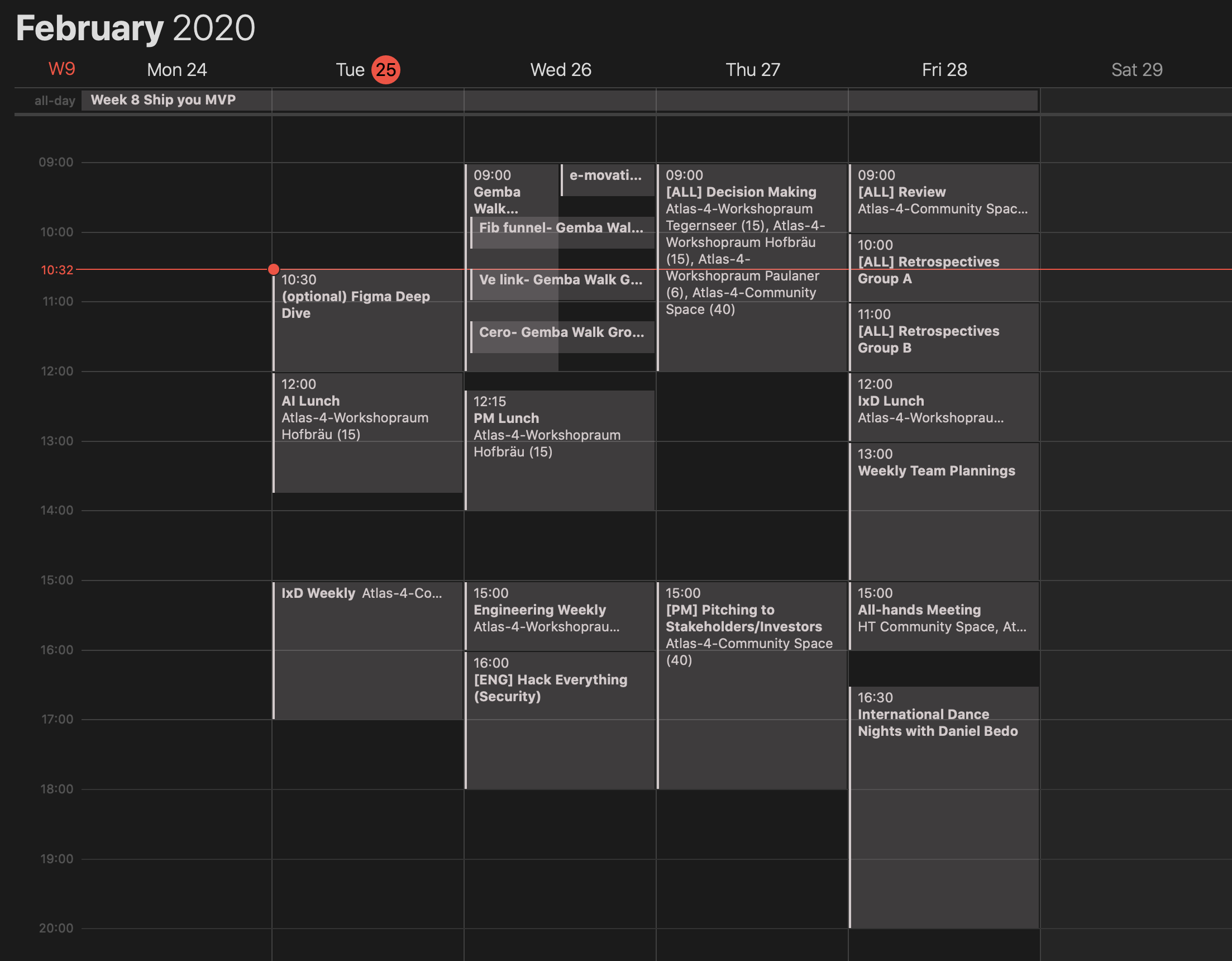 Week 8th schedule
CONTENT
---
Agile Product Development
One of a priceless lesson I learnt from digital product school, was experience of doing agile work. Before I came here, it was a little bit vague concept. I'm still not sure 'what is agile' but this is how we tried to make agile process.

Daily Stand-up(planning)
Sharing the works everyday helps interdisciplinary team to work better. Since product started to get higher fidelity, the gap between engineer and non-engineer increased. Actually I didn't planned to explain concept because I thougth I would be lose my audience when I start to explain. But as daily stand-up, which shares our progess, goes day by day, I planed and reported the issues. And it made each other's topic feel more familiar. I think point is very important, because at that point people start to be curious. So we can actively ask to the others, and that momwnr, we can explain the point teammate dosen't know.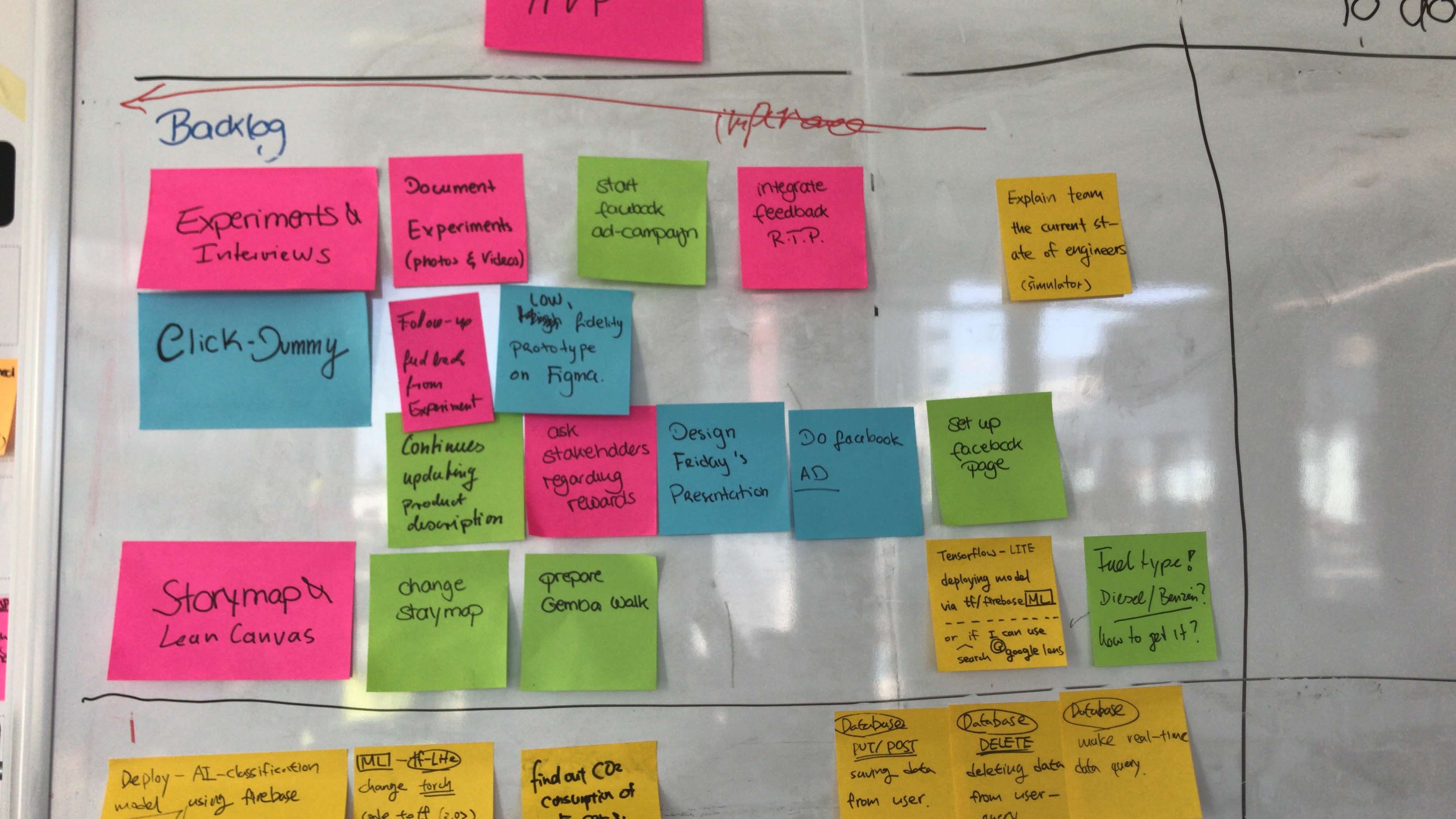 Each color means every different section. Red: Our team goal, Blue: Interaction designer, Green: Product manager, Yellow: Software/AI engineer
This week engineer's main plan
Each of us try to explain what we are doing, but things become easier when we are asked. Because we explained something was important to us before, but if we asked it is something important for the others.
Gemba Walk
Team Cero with core team
Every 2 weeks, we do the Gemba work, which is 'question everything to the core team' time. At this period, people can ask anything related to our product, workshop, and framework. Core team will help just for each team, and each team can solve the problem related to their work. < br/> Why we need this session? because with workshop and general schedule, core team has no time just focus on each team. So through this session, we can have opportunity to understand each program and workshop, like why we are using this platform, and when is the due of our small project, and we have this problem and we need help for this. whatever small problem you have, core team is always willing to help you.
Sprint Reviews
Every Friday, we have time to summarise what we did for the week. Maybe we need HMW question and our storymap to share our process and then tell and share what we did try, what point we succeeded and what point it was deviant of our prediction, and why we tried it..
Sprint of Ve-link
And then, just after all team's ppt, we do vote with such a cute marvel. Always it's very difficult to vote (of course you can't vote to your team!) Because it depends on criteria what do I value!
But since this is process of our agile work, I try to focus on what they have changed since last week, and why they did it, how they did it.
Engineering weekly
Every engineering weekly we exchange our knowledge each other so that we can grow together. Everyone have their knowledge to share and we can be tutor and at the same time can be of tutee.
Previously, my AI collegues presented regression, knn. And because I'm somewhat specialized to NLP, I prepared slide that explain about pre-trained language model, but my header advised me if I go deep of theoretical things, I would lose my audience. So I decided to brief BERT mode, how I can contribute to other team's project. Since BERT was breakthrough of NLP industry, I tried to explain how it can be applied to hands on product and how it can help people in their product.
The result was quite motivative to me. They gave feedback that since it wasn't that much theoretical, they could enjoy it, and useful information. Someone asked me do I had learned of presentation before. I was really happy with their feedback!