When I was volunteer, it seems like busy and hectic to managing that crowded conference.
In my experience, to get things moving, it needs hierarchy.
But it didn't. Organizers emphasized our responsibility, and if I passed each other's burden, It could be my burden next time.
In solidarity of the obligation, we finished conference well.
And after participating PyCon Korea 2018 as volunteer, I've joined PyCon Korea Organizer last year.

<Figure 1> First meeting of PyCon 2019 Korea Organizers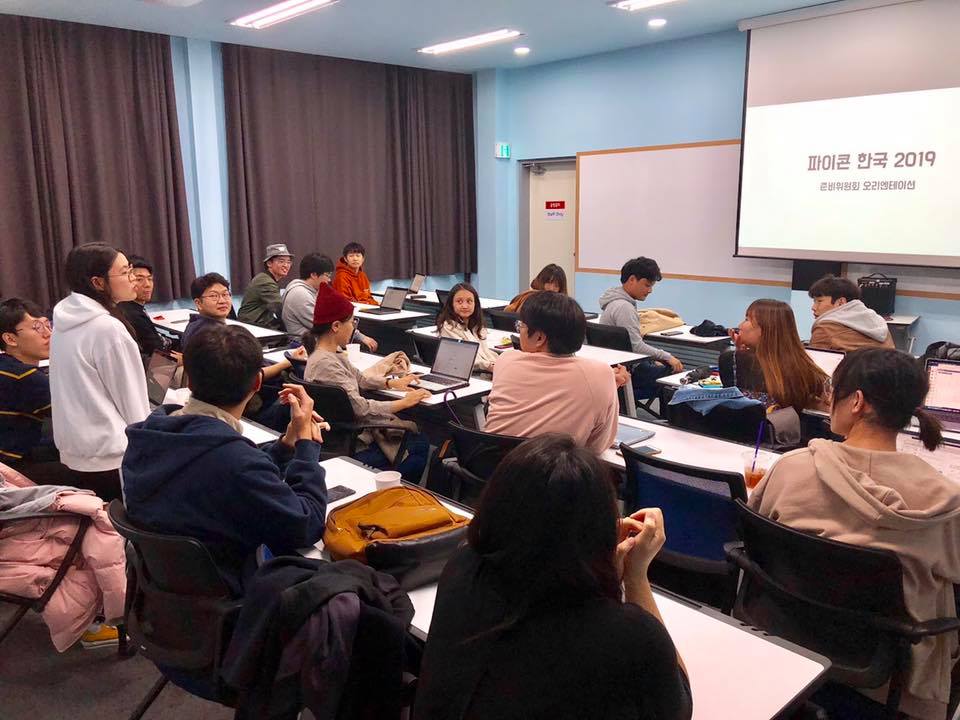 It's been a while since PyCon 2019 finished. It's held on Aug 15 - 18, at Coex Grand Balloom

<Figure 2> Ongoing session, speaking on news comment processing
<Figure 3> Sponsor Booth iin Coex Hall
<Figure 4> After PyCon 2019, with all of volunteer, organizer, speakers 😍 🥰
Serving as part of the coc TF, I spent large fraction of last year doing CoC job. here's the path what we've been grappled with to grasp a solution.
First half: Before the conference
Toward Diverse Community
Formally we've been reusing and modifying PyCon US CoC, but we needed fit in Korean and I was part of that to revise code of conduct.
Except 'That' Diversity, Because it is 'Harassment'
Specific point was harassment, and the others were not. process of finding the points. How can we settle this point?
Second half: During the conference
Handling the potential Harassment
Disjunction of policy and real-time situation
---
This 'PyCon 2019 Korea retrospective series' would be devided into 3 Episodes.

"Retrospective on Pycon 2019 Korea (CoC Committee)"
"Retrospective on Pycon 2019 Korea (Program Chair)" (20 Nov, To Be Update)
"Maintaining participation while still making timely decisions" (29 Nov, To Be Update)